The Company of Nurses
Our historic and long-standing links with nurses, going back to our origins in 1915, make it a particular pleasure to be now collaborating with the Company, both sharing the aim of improving support to retired nurses, and increasing the volunteer support we give to hospitals across Greater London, Bucks, and Essex, including those detailed below.
If you wish to know a little more about them, then please look here The Company of Nurses
Hospitals and Hospices
We are proud to work with some of our finest Greater London, Buckinghamshire and Essex hospitals and hospices in the delivery of volunteer services, including:
Florence Nightingale Hospice
We have 3 of our Remembrance Workers placed with this fantastic charity-led institution. We are extremely proud to be able to participate in the great work the Hospice carries out. Tracey will explain further: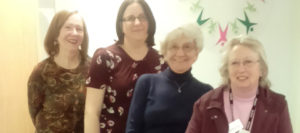 Tracey's Story
I'm Tracey, the Volunteer Services Manager at the Florence Nightingale Hospice Charity, a job which I've now done for 3 years and which I love. There are about 100 volunteers altogether, delivering services such as bereavement, driving, companionship, therapies, making a cup of tea or acting as a general helping hand. We're always very busy, and if I could sum it all up it would be "None of this would be possible without our fantastic volunteers – thank you".
We also have volunteers delivering services at the other great British organisations listed below
Buckinghamshire Community Hospital
Charing Cross and Hammersmith Hospitals
Chelsea and Westminster Hospital
Guys' and St Thomas' Hospitals
Commonwealth War Graves Commission
---