We are proud to work with some of our finest Greater London, Buckinghamshire and Essex hospitals to deliver volunteer services, including:
Florence Nightingale Hospice
We have 3 of our Remembrance Workers placed with this fantastic charity-led institution. We are extremely proud to be able to participate in the great work the Hospice carries out. Tracey will explain further: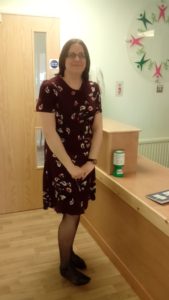 Tracey's Story
I'm Tracey, the Volunteer Services Manager at the Florence Nightingale Hospice Charity, a job which I've now done for 3 years and which I love. There are about 100 volunteers altogether, delivering services such as bereavement, driving, companionship, therapies, making a cup of tea or acting as a general helping hand. We're always very busy, and if I could sum it all up it would be "None of this would be possible without our fantastic volunteers – thank you".
---
We also have volunteers at all of the following institutions:
AGE UK Bucks
Buckingham Community Hospital
Charing Cross and Hammersmith Hospitals
Chelsea and Westminster Hospital
Colchester General Hospital
Stoke Mandeville Hospital
Great Ormond Street Hospital for Children
Guy's Hospital
St George's Hospital
St Mary's Hospital
St Thomas's Hospital
---