Our most important assets are our Remembrance Workers – they are the very reason we exist.  Have a look at some of their stories and see how they connect with what they do now.
---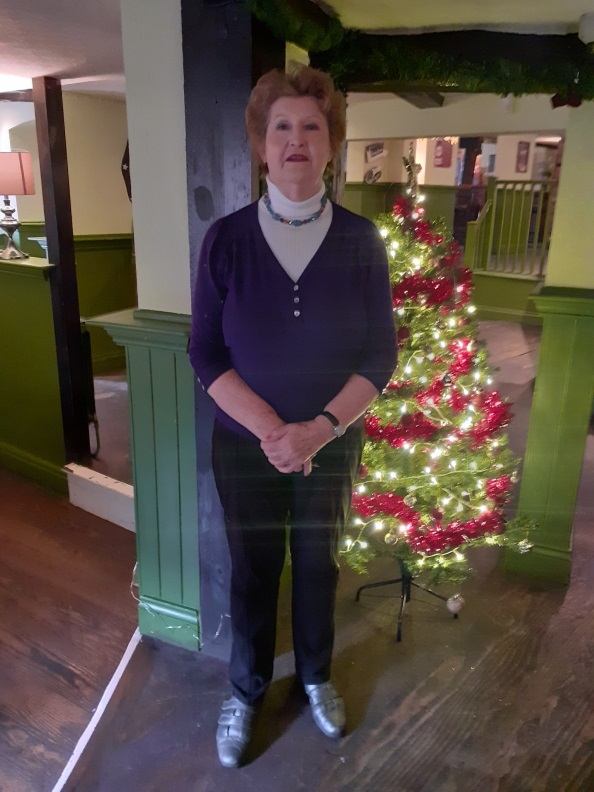 Gina's Story
I joined the Royal Navy in 1960 and trained at Mercury as a Signal and Radio Operator. My first draft was RNAS Sanderling where I worked as a Radio Operator in the Control Tower. I was then drafted on promotion to HMS Heron in Somerset as Watch Manager for the switchboard.
After 4 years I married, left the Service, and accompanied my husband, a serving sailor, to Hong Kong, where we experienced the uprising caused by an increase in ferry fares – frightening times indeed – and then on to Bermuda with HMS MALABAR. On return to UK I took up a position at Yeovil Hospital, but, missing naval life I moved to the Ministry of Defence and was sent to Air Support Executive at Yeovilton, initially in the travel and transport cell, and then on to the COMCEN.
Following a move to Cheshire I left the MoD and took up a charity post with SCOPE, soon moving to Aylesbury after the death of my daughter in an RTA. Here, I joined the British Legion and worked on the 'Pop-In' desk providing support to Service families, subsequently moving on to Age UK and the RSPCA. I joined the League of Remembrance to provide me with the companionship and support that was a feature of my naval service
---
Paul's Story
I was always destined to join the British Army as my father was a Soldier for 30 years with the Royal Engineers, retiring as Captain in 1991. In November 1988 I enlisted at Newport recruiting office, South Wales into, the Royal Regiment of Artillery. Basic training for me was at Woolwich Barracks Woolwich, London. After passing out I was posted to Dortmund, West Germany as it was then, to 22 AD Regt RA (The Welsh Gunners) at Napier Barracks where I became a Rapier operator. It was there also I witnessed the end of the Cold War. In 1990 I deployed on my first tour with the UN to Cyprus for 6 months. On returning back to Germany Sadam Hussein decided to invade Kuwait so I found myself in the Desert for the first Gulf War. After the Gulf I was posted back to Woolwich in a recruiting and PR role and then to Colchester, to Kirkee Barracks with 19 Regt RA (The Highland Gunners) where I was employed on the 105mm Light Gun and later on the observation post. In 1995 the Regiment deployed to Bosnia on Operation Deliberate Force where the Regiment saw action in and around Sarajevo. In 1998 it was back to Cyprus for another six month tour with the UN. 2000 and the Regiment was now equipped with the AS90 and another tour of the Balkans in a peace enforcement role. In April 2001 after 12 years I left the Army. Civi Street was tough for me and I found it hard to adjust . I worked in the fuel industry as a tanker driver and a depot supervisor for many years but my mental health started to deteriorate and it took me a long time to accept this and in 2012 I was diagnosed with depression, anxiety and PTSD. I have engaged with the NHS, Combat Stress and Help for Heroes on my road to recovery and I am very grateful for their help. I am very passionate about keeping the memory alive of our dead from Two World Wars. Now I volunteer for the Commonwealth War Graves Commission, maintaining scattered war graves in my local area. I find it very rewarding and therapeutic and it also motivates me to leave the house instead of shutting myself away. I feel it is helping me on my road to recovery and I feel very privileged to be part of The League Of Remembrance. I also know that I would not be where I am now without the love and support from my wife and kids family and friends.

---

Shanti's Story
Hello, my name is Shanti. My father was a volunteer in the British Army during WW2, based in Tricolamee in what was then Ceylon and is now Sri Lanka. I myself was a teacher in Sri Lanka for 18 years until my home was destroyed during the civil war and we moved to England, with my husband Noel, to start a new life.
Once in England we settled in well. I found a job as a civil servant, and my husband took work as a bookkeeper, and we both worked as volunteers in our local church. Unfortunately, Noel fell ill and underwent two major operations in St Georges Hospital, Tooting. We were both so grateful for the kindness and support we received in hospital that we both decided to volunteer our services within the hospital – in Noel's words "we wanted to give something back".
This was the start of our journey with the League of Remembrance. I work as a general guide and information point within the hospital and also provide support to other volunteers – Noel did the same until he had to give up through ill-health. I love it and if I had to choose one sentence to sum it all up it would be "Doing my best for others".
---
Anne's Story
Hello there, my name is Anne. I was born in Shanghai whilst my father was serving in the Staffordshire Regiment.  When WW2 began we were living in Singapore.  I was evacuated to Perth in Australia whilst my father continued to serve his country.
After the war we returned to England and my father trained first as a doctor at St Georges Hospital Tooting, and then delivered medical services for NATO at Supreme Headquarters Allied Powers Europe (SHAPE).  I, myself, trained as a nurse at the same hospital, specialising in midwifery, and enjoyed a long and fantastically rewarding career doing this.
I'm now back at the same hospital as a volunteer Remembrance Worker.  It's fantastic.  I work on Reception, where I enjoy helping visitors, patients and families find the information they need.  I love working here – "it just keeps me going".

---
Dorothy's Story
I'm Dorothy. My husband David served with the RAF. I myself trained as a nurse in 1962, and then worked in a number of hospitals including Barnet General, Lambeth Hospital, Spurgeons, Dr Barnados Nursing Hospital. One of the highlights of my career was to go out to Nigeria in 1969, as part of a relief team, during the Biafran War – heart-breaking at times but fantastically rewarding too.
I've been a volunteer with the League of Remembrance for 2 years now and I work as part of the bereavement service team in the Florence Nightingale Hospice, as well as volunteering for CRUISE. Where do you start to describe what I do? I'm passionate about people being looked after well. Bereavement is such an individual and unique journey that it deserves all of us going that extra mile for those who need us.
Some of those we've helped said:
"I'm very grateful to have somebody who could listen, empathise, and be non-judgemental. Thank you."
"I could not have left my home at the time, and I couldn't imagine where I would be without the service I had."
"It sometimes frightens me to think what I might have done without this support, as I was so very low after the death of my husband. I will always be grateful."

---
Margaret's Story
My name is Margaret.  My father served for 12 years in the Royal Navy including World War 1 and beyond.  My brother also served in the Armed Forces spending 2 years as part of the Royal Artillery.
My career included spells as a typist with a Greek shipping company, followed by 15 years government service in Canada, before returning to London and working at the Midland Bank.  It was during this period that I had to undergo medical treatment at Guys Hospital, something that, sadly, meant I had to retire from work.
In 2011, I heard about the League of Remembrance and met up with them for a chat.  I liked what they did so much I immediately became a volunteer and now deliver information point services in Guys Hospital.
It's great.  Everyday I meet new people and feel I'm part of something wonderful.

---
Cyril's Story
I'm Cyril and I spent time in the Army in the late 1950's serving in the Royal Army Pay Corps as part of my National Service.  Following that I entered the retail business and then spent the majority of my working life in this area.
After I retired I met up with a friend one day who told me he volunteered for the League of Remembrance.  Fascinated by what he told me I asked him to introduce me and now, since 2013, I too have been part of what this charity does.
The benefits are huge.  It makes me get up in the morning, and dress smartly, and puts discipline back into my life.  I'm a person who likes speaking to others and this job provides the ideal opportunity to do just that.
I believe the key to success in what I do is simple.  Smile at the patient to reassure them, treat everybody with respect, and lastly, and most importantly, treat everybody as an individual.
---